Certificates
A candidate receives a Certificate of the Matriculation Examination following the examination period when all the four compulsory tests have been passed. Starting on June 2023, the candidate receives the cerfificate also in digital format. The digital certificates have been verified by the Matriculation Examination Board with a digital signature.
In addition to the Certificate of the Matriculation, which is ocean blue in colour, the candidate can request for a Certificate of Approved Grades if they are yet to graduate. These certificates are white in colour and also available on paper and in digital format (pdf-file). 
More information about the digital certificates and how to validate them will be available shortly.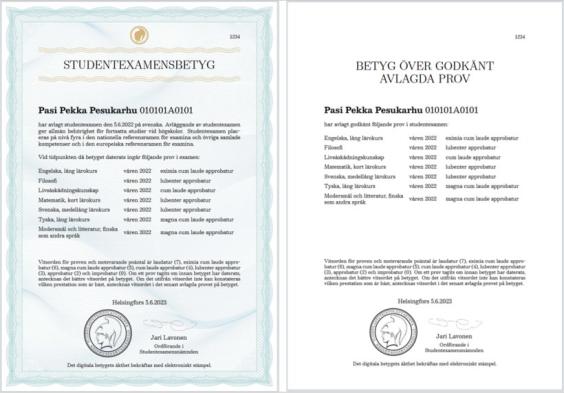 Validating a Matriculation Examination Certificate
Select the document according to the instructions on the page 

Check the following items: 

There is only one signature on the page and the CA is EU-accredited

The signatory is the Matriculation Examination Board 

If this information does not match, the certificate may not be authentic. Please contact the Matriculation Examination Board.